Here are all the common questions our volunteers ask but if there is anything else you would like to know just reach out to us at info@helpingfoundation.org.au and we would be more than happy to give you all the information you need.
How long are volunteer trips?

Typical trips take 6 to 9 days excluding air travel. We sometimes customise the trip to suit special volunteer interests or travel needs. For more detail, see a typical sample itinerary at the conclusion of the frequently asked questions section.
What does a typical Volunteer trip itinerary look like?

Each of our trips is unique but a typical itinerary looks similar to this.

Day One

Arrive in Phnom Penh and meet the team for dinner.

Day Two

The group will visit Toul Sleng Museum and Killing Fields and learn about Cambodia's difficult history. This will help you to understand the local culture. At dusk, we will enjoy a boat trip along the Mekong and see Phnom Penh at night. Followed by dinner at one of the many local restaurants. If you haven't tasted authentic Cambodian food it is some of the best tasting in the world!

Day Three

We travel to the outskirts of Phnom Penh to visit Sunrise Children's Village, play with the kids, and help by hearing their English reading. We will have lunch together with the children and enjoy a concert they will prepare for us. Before leaving we will individually present each orphan with a gift, a unique and special experience for them (and us).

Day Four

We are off to Siem Reap by Tourist Coach which presents an opportunity to see the country up close. Followed by dinner at one of our favourite restaurants in Siem Reap as we gather for a briefing on what to expect during our house-building adventure the next day.

Day Five and Six

For the next two days, we will be visiting a village and building a house for the expectant family, who have been anxiously awaiting our arrival. At the end of day 6, we will hand over the houses to the family, who are overjoyed to receive their first real house. To us they are very simple houses to them they present a new opportunity in life. Each night we will be enjoying dinner together at one of the many excellent restaurants in Siem Reap the tourist mecca of Cambodia.

Day Seven

This morning we will visit the Missionaries of Charity and meet the Sisters. Afterward, we drive by minivans to our accommodation in Pailin one of the last strongholds of the Khmer Rouge. We will meet Dr. Samnang director of Cambodia Family Support for Dinner and he will outline the program for the next day.

Day Eight

Today we will visit some of the CFS projects and see firsthand and be amazed at how Dr. Samnang and his small team are able to impact the lives of so many people by motivating them to help each other. In our view, this is the most impactful project in Cambodia. No doubt we will see Animal Bank (the precursor to Cows for Cambodia) and see firsthand the amazing transformation a cow can make to the fortunes of a poor family. In the afternoon we will depart for Battambang (the second-largest city in Cambodia) for dinner and where we will stay for the night.

Day Nine

We return to Siem Reap for a final farewell Lunch. Some will then depart for home, others for other destinations in Asia that are as little as one hour away by air. Many will take advantage of being so close to visit Angkor Watt (One of the wonders of the world).
What skills are needed? I have never used a hammer?

We try to build as Cambodians build so only simple tools are used. Most of our volunteers have rarely if ever lifted a hammer. Some of the team usually have some building skills and the Cambodian builders help us. Don't let inexperience stop you. You are in for a great experience. One you will remember forever.
What is being a volunteer like?

Most of our volunteers tell us it is the most satisfying experience they have ever had in their life. Many volunteers join future teams and bring family and friends with them because they want to share the experience with others. The bonds and friendships created between volunteers often become lifelong.
What currency does Cambodia use?

Cambodia has its own local currency (the Real). $US1 is R4,000. The most common local note is R1,000 which is worth about 25 cents. So, most prices are quoted in US dollars. The most useful notes are the $US1 and $US5. Anything over $US20 can be problematic in getting it changed. All the prices quoted in the Q and A section are in $US, unless stated otherwise.
What do you have to pay for?

Volunteers are asked to pay their own airfares and accommodation plus meals and a contribution towards local transport and out-of-pocket expenses of the group. Costs in Cambodia are generally low by Australian standards. Hotel rooms for a couple for example can be $35 a night including breakfast and laundry. Meals can be as low as $8 for a green chicken curry. We generally collect $100 from each volunteer to cover local transport and incidental costs over the week.
How do I book my accommodation?

We book all the accommodation. Volunteers need to settle their account when departing the hotel.
How much are the airfares?

Airfare costs depend on how keen you are to seek them out and how early you book. We can give you some hints as to how to get the best prices. Personally, I have found Air Asia the best value. Return airfares are about $A1,000.
Do Volunteers need to make a donation towards the houses and other projects?

Volunteers are expected to raise $A2,000 towards the cost of the houses and charitable projects. These donations go directly to the Charities. Many volunteers run fundraisers or ask family and friends to help by donating on their behalf.
What if I can't raise the $2,000 donation?

We have never had this issue. In Australia, there are generally only 3 reasons people don't donate.

The donation is not tax deductible.
The administration charges are too high.
They are nervous that the funds will not reach the beneficiaries intended.

Nearly all of our charities have tax deductibility, we have no administration charges as everyone in the Helping Foundation donates their time for free, and the donor knows that the donation will be used as intended as you will be going to Cambodia with it.
How do I enroll on a team?

If you are interested in joining a team please email us at info@helpingfoundation.org.au . If there is room for you on that team then to confirm your spot, you will be required to make a donation of $A175 to a charity we nominate. (This donation will be part of your $A2,000 donation requirement). If that particular team is full we can work with you to schedule you on a future team.
Is there any age limit for volunteering?

We prefer volunteers to be over 15 years old. Our oldest Volunteer was 80.
Do volunteers need travel insurance?

All volunteers must provide details of their travel insurance including medical emergency evacuation cover.
What if I have a health issue? Can I still Volunteer?

Just provide details of any health issues or physical concerns with your email request to join a team and we will be able to advise you.
I have a food allergy, will it be a problem?

Cambodian restaurants do not cater to food allergies or special dietary requests. You will need to be flexible and manage your own food intake if you have any special needs. Fortunately, for many volunteers, good coffee is readily available in Phnom Penh and Siem Reap.
What do I need to prepare? What do I bring?

There will be a detailed briefing scheduled at least 3 months prior to the trip to answer all your questions and to advise on what to bring and what clothes are best to bring. It is important though to point out that Cambodians are much more modest than Westerners and can easily be offended by our lack of clothing. In Cambodia skin is a sin and tight exercise pants for example are a definite no, no. Volunteers who do not have modest clothing will not be taken into the villages as the Cambodians find immodest clothing insulting.
What is the impact of building a house on a family? Why not just donate a house?

Obviously, any house donated is very much appreciated. But volunteers building a house has a significant impact. Poor rural Cambodians often think of themselves as bad people. They are Buddhists and believe bad things happen to bad people. They have experienced so much loss, pain, and despair in their lives they believe they must be bad people. When volunteers, strangers, come from a long way away (another country) and build them a house and expect nothing in return, this is so good …like winning the lottery….there can be only one logical explanation. They must be good people!!! This changes their whole outlook on life. Instead of expecting everything to fail they now are very positive and hopeful for the future. Volunteers physically involved in building a house have a lasting impact.
Does Helping Foundation have any admin fees?

Helping Foundation Australia has zero admin fees and running costs. Helping Foundation Australia is completely staffed and run by volunteers. We do not collect your donations – your donation is made directly by you to your chosen charities that we support. Absolutely none of your donations are retained by Helping Foundation Australia. We have first-hand knowledge of the charities we support, regularly meet with the key stakeholders in these charities, and have visited them many times to see first hand the impact they have had and continue to have on the ground in Cambodia.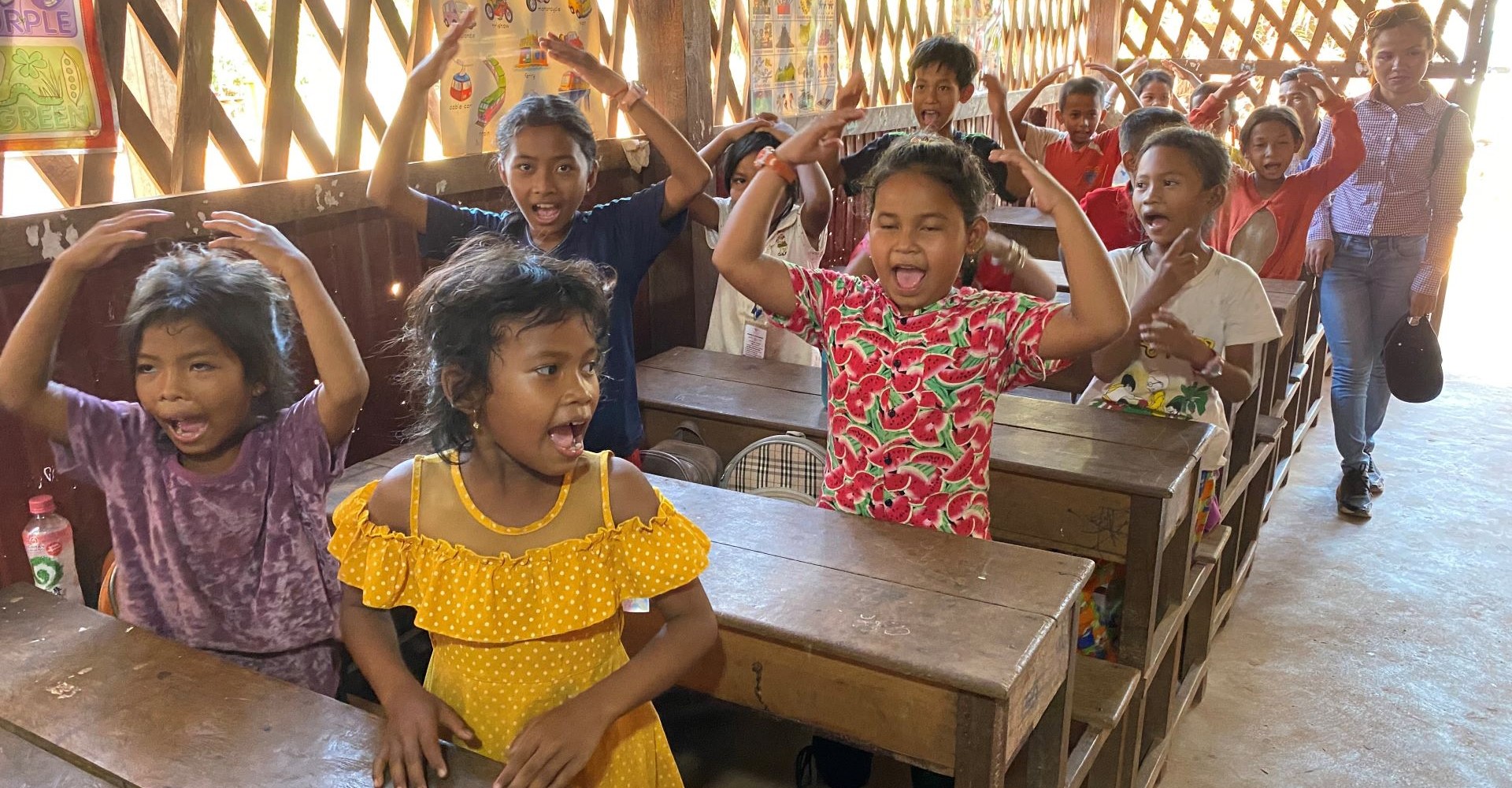 For More Information Please Contact Us at
Info@helpingfoundation.org.au